QUALIZZI Mini LED CHINESE LANTERNS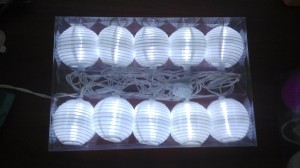 Our Mini Led Oriental Lanterns come on sets of 10 Globes 3″ in diameter. The material of the Shoji japanese style globes is made of Nylon, so it makes them totally waterproof suitable for outdoors use.
The strings are 11 feet long and are expandable and connectable to other strings, ones plugs into the other ones. You can add up to 14 strings more, making a total of 15 strings with a total of 150 globes. This makes these string lights very useful, as you can use them for really large decoration settings.
They come packed up all folded in a way that you have to mount them yourself. This keeps the cost of the product lower, as the shipping costs are very high for a larger volume pacakaging as in the photos above. So you will find them as in the photos below:
ASSEMBLY INSTRUCTIONS:
Click on the image below to download instructions.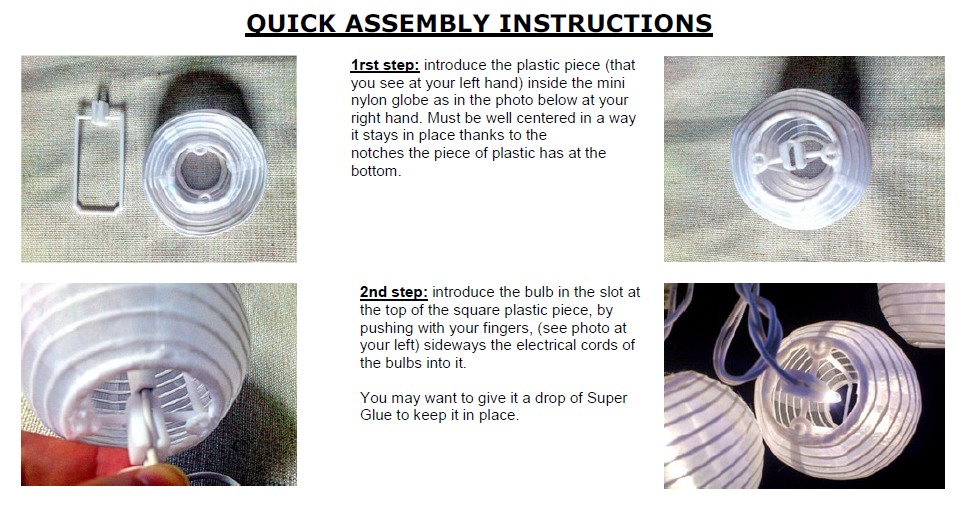 .
ASSEMBLY INSTRUCTIONS OF THE QUALIZZI MINI CHINESE LANTERN STRING LIGHTS ON VIDEO BY ONE OF OUR KIND CUSTOMERS
.
You  can find the original video on our Amazon listing for the Mini Chinese Nylon Lanterns with the customer review at http://www.amazon.com/review/R1Q4GH80PXJ6BA/
.
Chinese Nylon Lanterns Reviews and Photos from Amazon:
(soon)
IMPORTANT SAFETY INSTRUCTIONS FOR THE HANGING CHINESE LANTERNS
When using electrical products, basic precautions should always be followed including the following:
READ AND FOLLOW ALL SAFETY INSTRUCTIONS.
1) Do not use seasonal products outdoors unless marked suitable for indoor and outdoor use. When products are used in outdoor applications, connect the product to a Ground Fault Circuit Interrupting (GFCI) outlet. If one is not provided, contact a qualified electrician for proper installation.
2) This seasonal use product is not intended for permanent installation or use.
3) Do not mount or place near gas or electric heaters, fireplaces, candles or other similar sources of heat.
4) Do not secure the wiring of the product with staples or nails, or place on sharp hooks or nails.
5) Do not let lamps rest on the supply cord or on any wire.
6) Unplug the product when leaving the house, when retiring for the night, or if left unattended.
7) This is an electric product—not a toy! To avoid risk of fire, burns, personal injury and electric shock, it should not be played with or placed where small children can reach it.
8) Do not use this product for other than its intended use.
9) Do not hang ornaments or other objects from cord, wire, or light string.
10) Do not close doors or windows on the product or extension cords as this may damage the wire insulation.
11) Do not cover the product with cloth, paper or any material not part of the product when in use.
12)This product is equipped with push-in type lamps. Do not twist lamps.
13) Read and follow all instructions that are on the product or provided with the product.
USE AND CARE INSTRUCTIONS:
1) When the product is placed on a live tree, the tree should be well maintained and fresh. Do not place on live trees in which the needles are brown or break off easily. Keep the tree holder filled with water.
2) If the product is placed on a tree, the tree should be well secured and stable.
3) Before using or reusing, inspect product carefully. Discard any products that have cut, damaged, or frayed wire insulation or cords, cracks in the lamp holders or enclosures, loose connections, or exposed copper wire.
4) When storing the product, carefully remove the product from wherever it is placed, including trees, branches, or bushes, to avoid any undue strain or stress on the product conductors, connections, and wires.
5) When not in use, store neatly in a cool, dry location protected from sunlight.
CAUTION:To reduce the risk of fire and electric shock: a) Do not install on trees having needles, leaves or branch coverings of metal or materials which look like metal. b) Do not mount or support strings in a manner that can cut or damage wire insulation.
PRODUCT IS FOR INDOOR AND OUTDOOR USE
INPUT:120VAC 60Hz                   MADE IN CHINA
SAVE THESE INSTRUCTIONS
Click on the "Amazon  Buy Button" and Get Your Qualizzi Chinese LED Lantern String Lights With Confidence with Our No-Hassle 1 Year 100% Money Back Guarantee .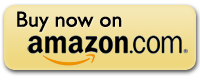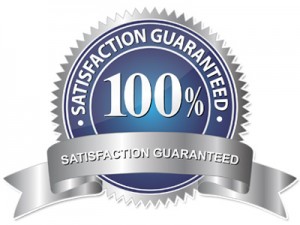 *WARNING: CHOKING HAZARD – SMALL PARTS, NOT FOR CHILDREN UNDER 7 YEARS OLD