Qualizzi Star Lights Starry Lights Mini Sets, Blue
Starry Lights Blue Mini with Ebook: 20 Fairy LED String Lights Battery Powered. Amazingly Bright Micro Leds on a 6.57 Feet Ultra-thin Silver Wire String
BLUE Micro LED on String Light Battery Operated – Blue Starry Lights on Ultra-thin Copper Wire Silver Coated (6.56ft / 2m) – Strings of Light for Blue Decorations. Bedroom Fairy Lights. Popular Strips for Bicycles. The SILVER coated Copper Wire, 3mm in diameter and 7ft total LENGTH. At some distance the silver led lights string turns invisible when the micro LEDs are turned on. There is a distance of 4″ in between the 20 LEDs strung on the bendable wire easy to wrapp around objects.
.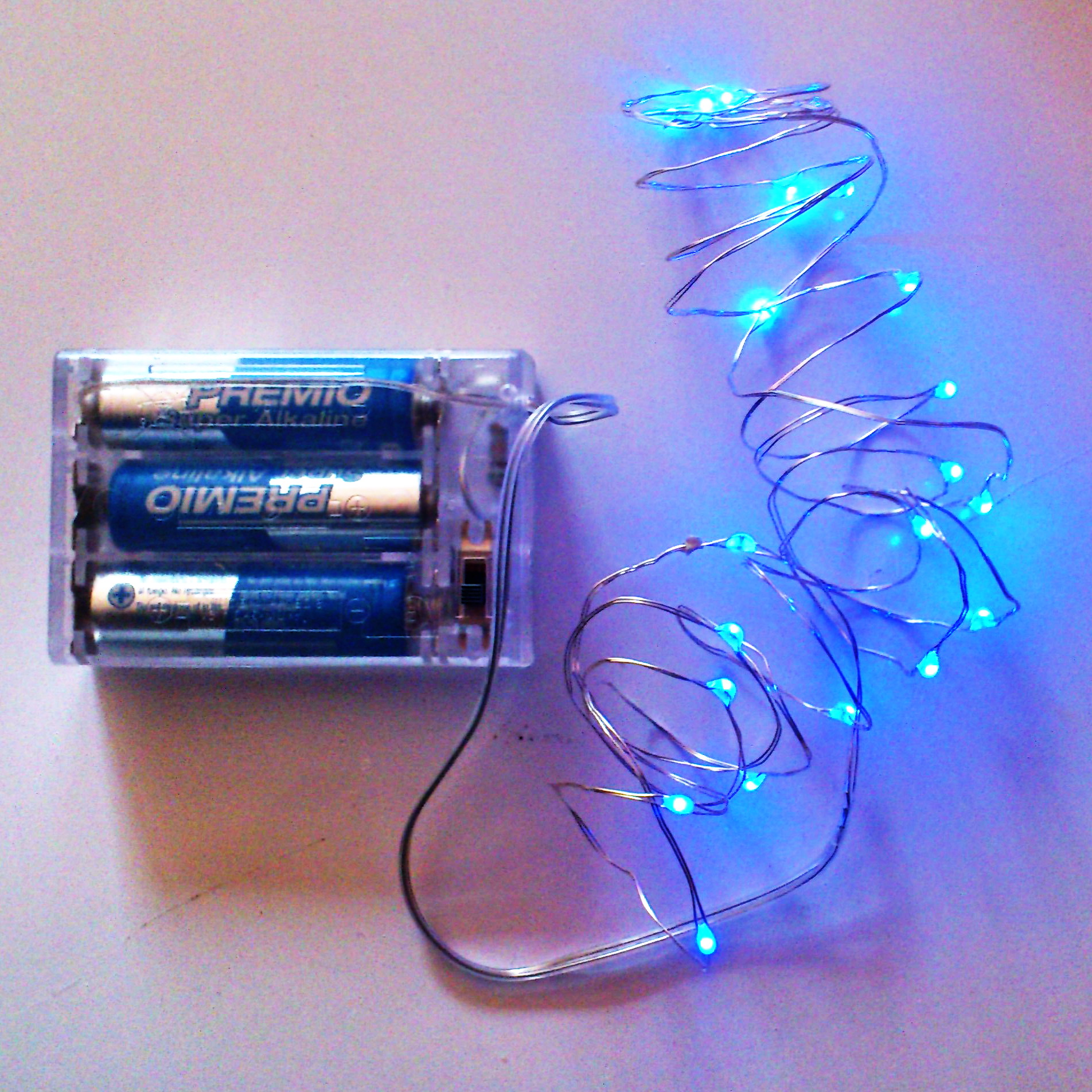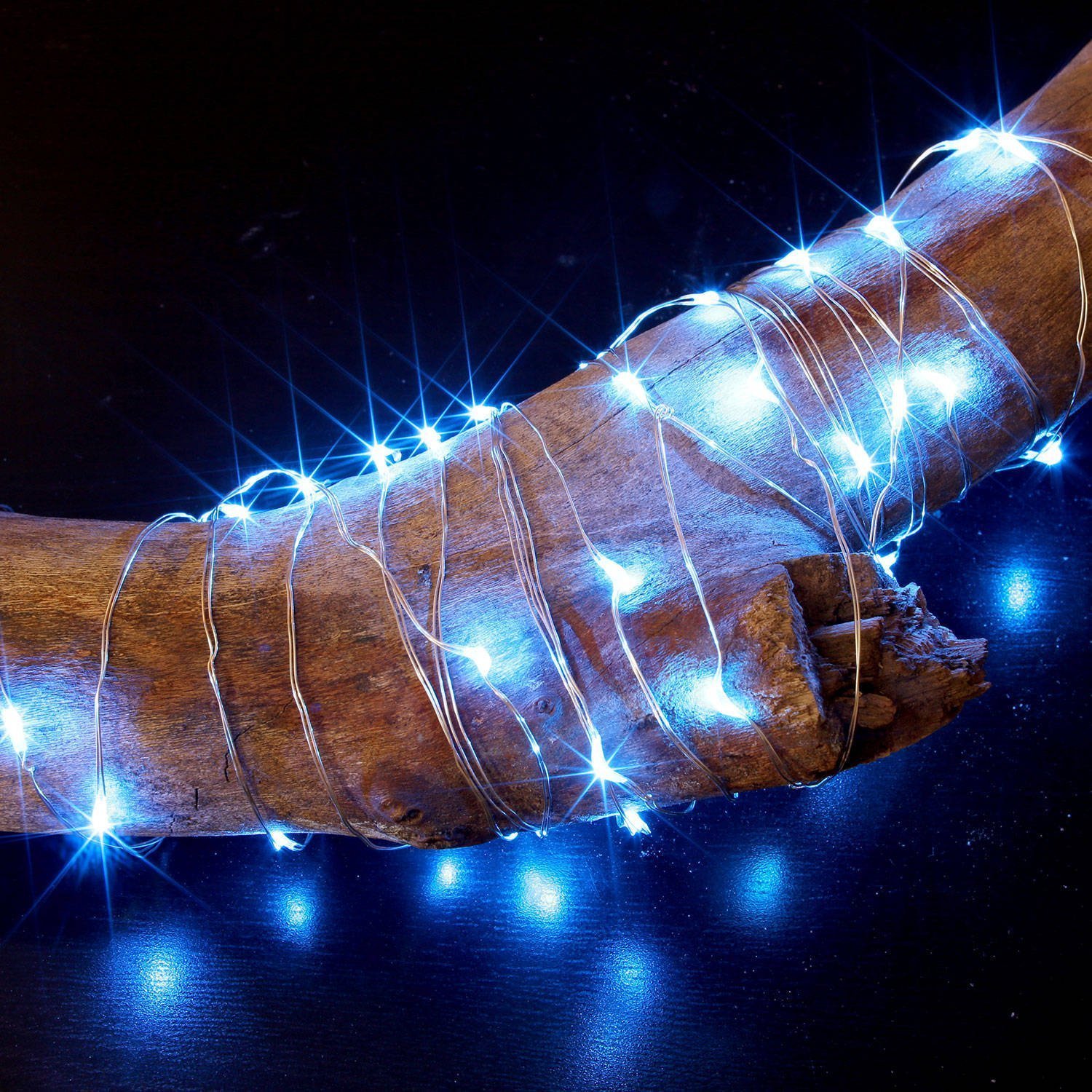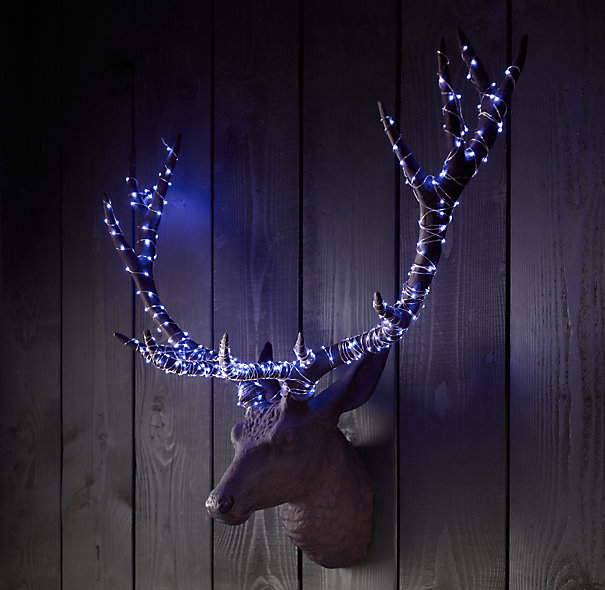 The Waterproof LED Silver Wire Strings can be used OUTDOORS for decorating patios, pools and gardens. This is the perfect light for a party. The battery light led wire can be submerged but we don't recommend to stay underwater too long.
Starry String Lights also called Fairy lights battery powered, due to their light fairy like feeling, provide en extra easiness of installing them on any area of your special events.
These battery operated starry lights are so light in weight that are portable to anywhere you want. The Blue Lights String is very useful and popular today for sports, lighting your jacket, your bicycle, helmets… The led lights string work as illuminating devices for the wheels and other elements of bicycles. LEDs are ENERGY EFFICIENT and environmentally friendly.
FREE eBook "Decorating with String Lights" makes the kit a wonderful Christmas Gift. Starry Lights BATTERY OPERATED strings of lights 20 BLUE color LEDS. Operated by three AA Batteries (Not Included) inside a small transparent plastic holder with On/Off switch. Battery pack dimensions: 2″ x 2-3/4″ x 3/4″. See instructions to open the battery holder. Indoors & Outdoors Fairy Lights
"QUALIZZI SILVER": BLUE MICRO LEDS, BATTERY OPERATED SETS.
– The FANCIEST ITEM OF THE YEAR FOR HOME DECORATION Bright rich bulb color, low temperature energy saving. Apply for parties, wedding, bedroom, garden… Suitable for crafts, clothing, toys and gifts.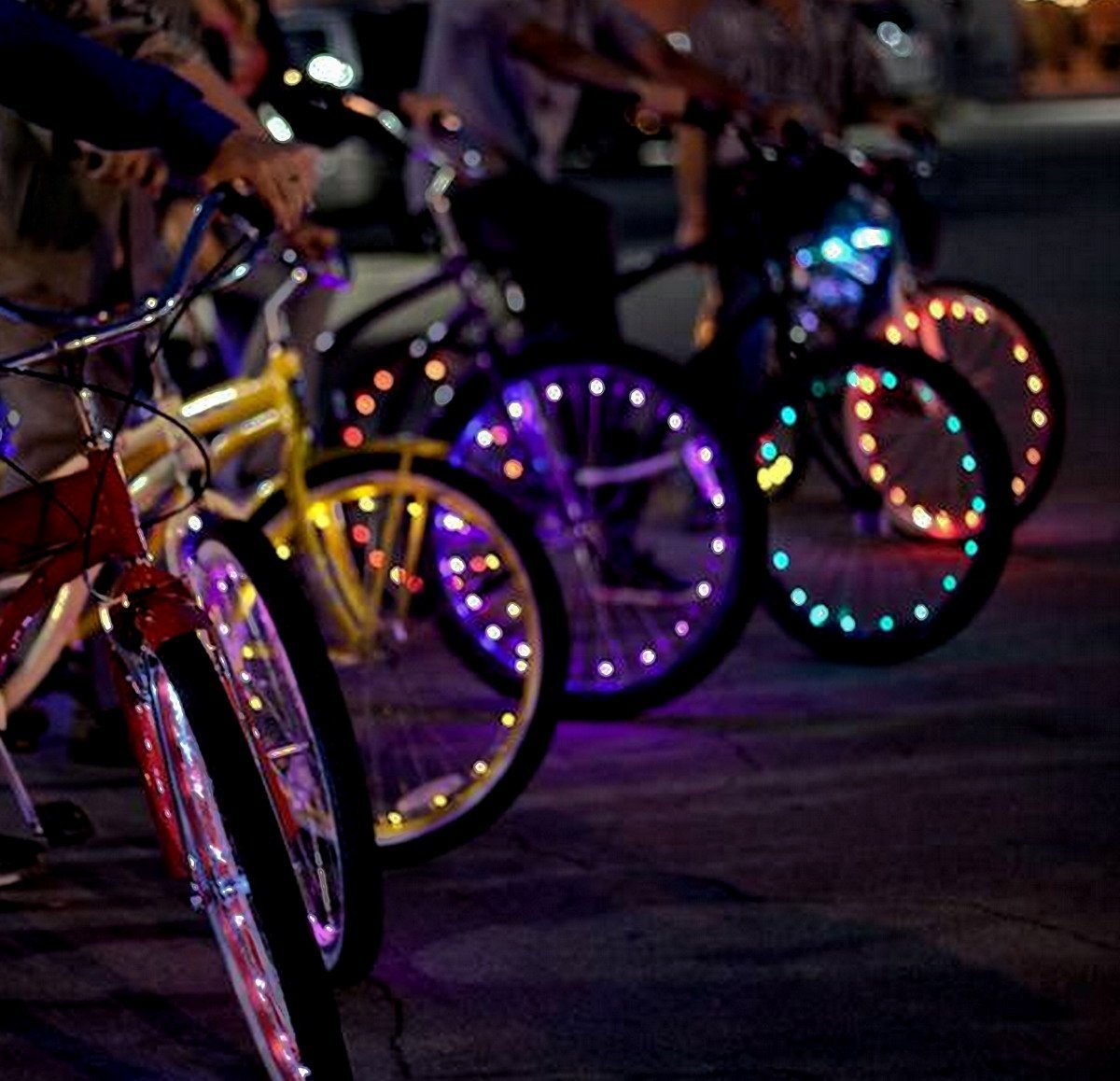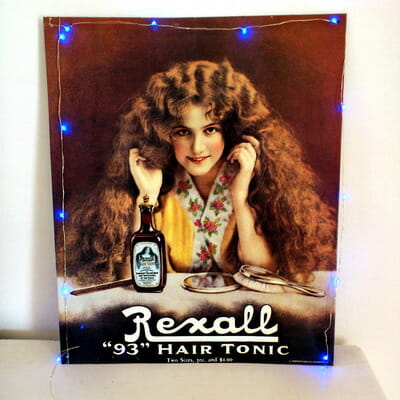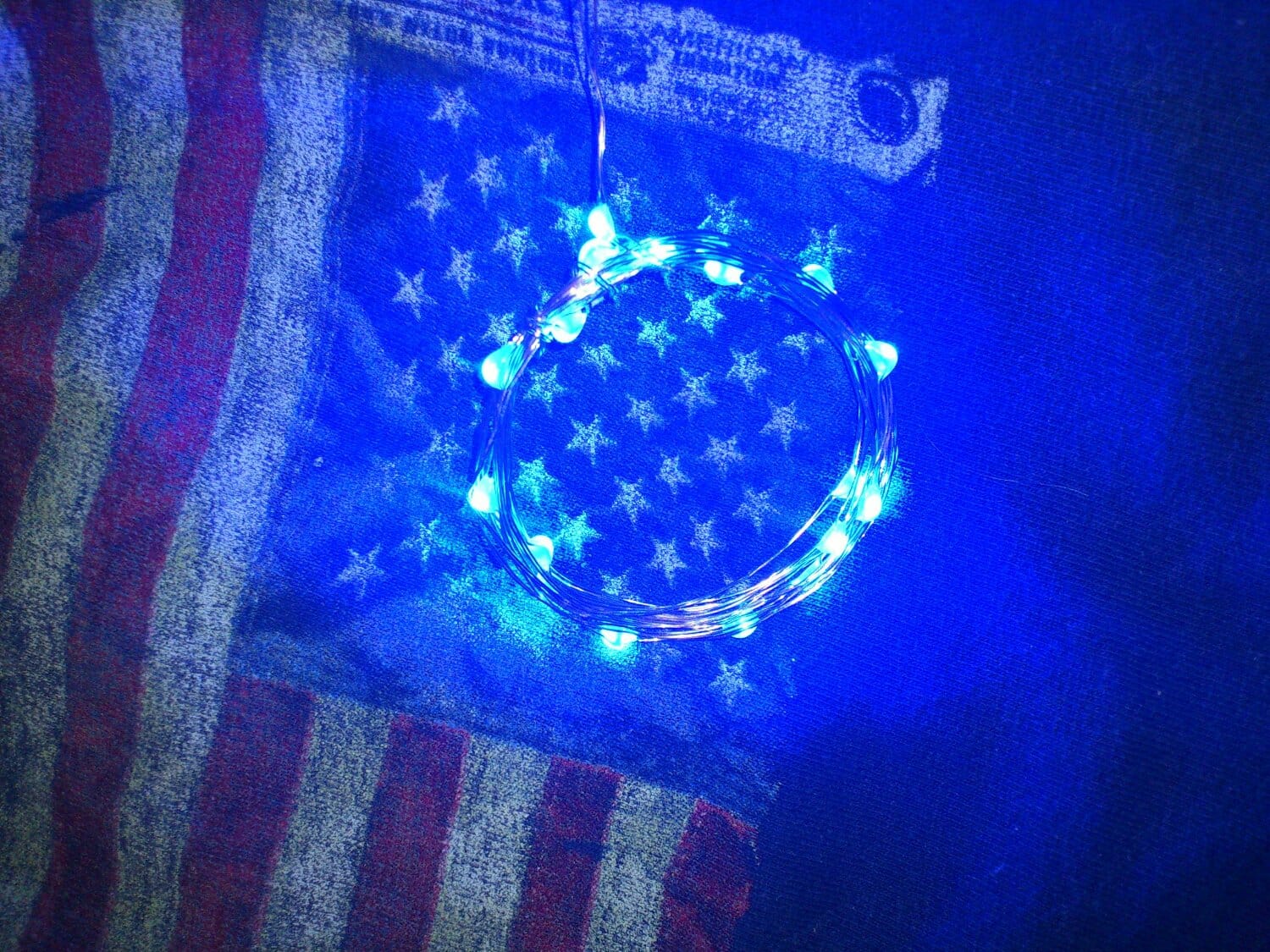 Specifications:
• Name: Silver Wire Micro LED String Lights
• LED Color: BLUE
• Number of Bulbs: 20
• Wire Color: Silver Color
• Wire Material: Copper Wire Silver Coated
• Wire Diameter: 4 mm. (0.15″)
• Wire Length: 2 meters (6.56 ft)
• Bulb Distance: 10 cm. (3.93″)
• Luminosity: 360° sparkle (Different from traditional 90° -180° sparkle)
• Power Source: 4.5V -3 x AA batteries- (not included).
• IP: IP-65
• Waterproof
• On / Off power switch
• With new batteries they last for over 48 hours if not turned off Accessories-Instructions: Plastic battery holder with On/Off switch. Batteries not included.
Instructions To open battery holder:
 Press to slide the top to one side. (Please see photo on Amazon product listing, or at www.qualizzi.com)
 Turn on black switch. Turn off when not in use.
Remove batteries when you plan not to use the set for some time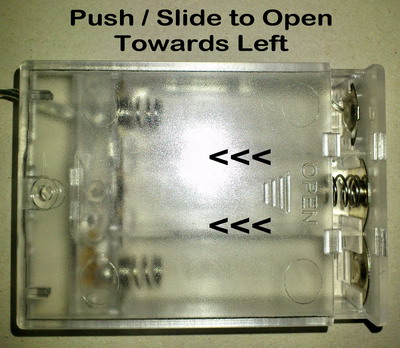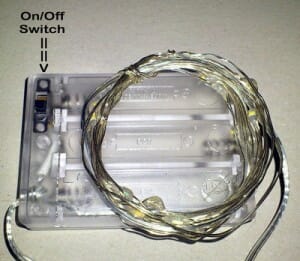 WARNING: CHOKING HAZARD – SMALL PARTS, NOT FOR CHILDREN UNDER 3 YEARS NO HASSLE GUARANTEE, NO QUESTIONS ASKED.